Je m'appelle Bernardo Barros, je suis né à Santa Maria sur l'île de Sal au Cap- Vert.
J'ai 17ans et je surfe depuis l'âge de 12ans. Après j'ai commencé le kitesurf à 15ans et
J'adore vraiment faire de la vague a Ponta Preta et j'aime tous les types de conditions sur l'eau.
Je suis influencé par tous mes amis kitesurfers local de Cabo Verde, surtout par Mitu Monteiro. Rider avec eux me motive à être toujours meilleur et à apprendre de nouveaux tricks.
J'ai choisi de rider avec les planches de surf de HB, qui sont les meilleures que j'ai utilisé. Elles sont très rapides et se déplacent très vite. Ma préférée est la Lafayette 5'8, parfaite pour rider de grosses vagues.
Quand je ne kite pas, j'aime bien faire du surf, du Stand up Paddle, ou du skate.
I'm Bernardo Barros,i was born in Santa Maria on the island of Sal in Cape Verde.
I am 17 years old and I surf since the age of 12. After, I started kitesurf at age 15 and
I really like riding the wave in Ponta Preta and I like every type of conditions on the water.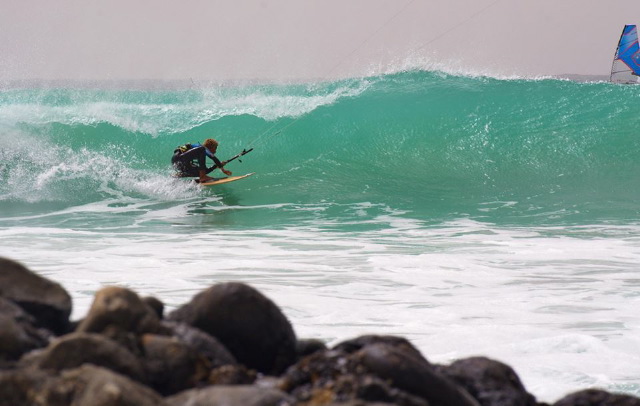 I'm influenced by all my friends local kitesurfers of Cabo Verde, especially Mitu Monteiro. Riding with them motivates me to be better and to learn new tricks.
I chose to ride with HB surfboards because they are the best I've used. They are very fast and move very quickly. My favourite is the Lafayette 5'8, perfect to ride big waves.
When I'm not kiting, I like to go surfing, stand Up Paddling, or skating.